Are you wearing your Jewel with Pride?
Many brethren are wearing their West Lancashire 2021 Festival Jewel with Pride – in the knowledge that they are supporting the Masonic Charitable Foundation.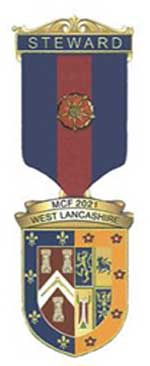 The Masonic Charitable Foundation has since it was created three years ago, has given on average over a £1,000,000 a year to this Province in support of Freemasons, family, dependents and widows. This averages out to each of the 339 lodges having at least one member who is either receiving help or one of his family, dependents or a widow has received assistance from the MCF.
If you would like to support the 2021 Festival the MCF have agreed to extend the direct debit scheme for the Festival for a further year…….
This means you can set up a direct debit for 24 monthly payments of £10 starting on 1 May 2020 ending on 1 April 2022. This is only available until 31 March 2020.
If you would like to wear your 2021 Festival Jewel with Pride ask your lodge, chapter or group charity steward for a direct debit mandate and when you have completed the mandate you will receive your 2021 Festival Jewel which you can wear with Pride in the knowledge you are giving back to the MCF some of the money they are giving to one of your brothers, family, dependent or one of your lodge / chapter widows.